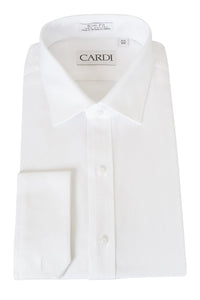 The "Jamison" White Spread Collar Shirt is a perfect shirt to go with a wedding suit.The 100% cotton twill fabric has a beautiful subtle diagonal texture and is soft, lightweight, breathable and comfortable. Break-stitch resistant buttons and single-needle tailoring showcase the attention to detail and premium craftsmanship. A Flex Fit collar provides the desired level of comfort around the neck.


Color: White
Pattern: Solid
Material: 100% Twill Cotton
Collar: Medium Spread
Pleats: No
Cuffs: Mitered
Fit: Modern Fit or Slim Fit
Condition: Brand new with original tags & packaging


(NOTE: formal jewelry set not included with shirt).


SUGGESTION:
Consider adding a formal jewelry set to your shirt order. A formal jewelry set is a 6-piece set consisting of 4 studs and 2 cufflinks. The 4 studs are used down the center placket of the shirt; whereas the 2 cufflinks are used in each sleeve of the shirt. Also, if you do not already own a black luxury satin bow tie, now may be good time to consider adding a set with your shirt order -- timeless, classic, and a staple for every gentleman's formal wardrobe.